Services
Quality eye care for all ages
Ocular emergencies
Treatment of eye infections
Management of eye diseases such as Glaucoma and Macular Degeneration
Ultra wide digital Retinal Imaging with the state of the art Optos Optomap
Visual Field Analysis with the Haag Streit System
Macula & Nerve Analysis with the new Topcon HD-OCT
Pre & Post LASIK co-management
Cataract Surgery co-management
Soft contact lens fitting, including toric and multifocals
RGP contact lens fitting
Full service optical with the latest lens technology
Many single vision prescriptions can be done the same day
Sport goggles
Safety glasses
Sunglasses
At Carthage Eye Clinic, Dr. Philip W. Marler and our entire Carthage optometry team are committed to providing advanced vision care in a professional and comfortable environment. As an optometrist in Carthage, our primary eye care service includes a complete eye exam that analyzes eye health and vision function. In addition to eye exams and vision testing, Dr. Marler and our team of optometry professionals provide testing for glaucoma, cataracts and macular degeneration. Our Carthage optometrist also offers glasses, contact lenses, and pre- and post-operative care.
---
Eye Exams
Dr. Marler and the Carthage Eye Clinic team take even routine eye exams very seriously. During a yearly or bi-yearly examination, our Carthage patients will receive a patient history review, a series of vision and eye tests, assessments of eye focusing and movement, and an eye health evaluation. Our optometrist will discuss any additional testing that may be required to diagnose an eye disease or condition. Call us today at (601) 267-9351 to schedule an appointment.
---

EyeGlass Guide
EyeGlass Guide will help you better understand the many lens choices available to you. This on-line tool will guide you through a series of questions about you, your lifestyle and your specific eyewear needs. At the end, you'll receive eyewear suggestions specifically tailored to meet your needs. EyeGlass Guide is brought to you by Transitions.
---
Contact Lenses
Not sure that glasses are for you? Ask our Carthage staff about contact Lenses. Advances in the field of optometry have produced a variety of different types of contact lenses with a range of benefits. Rigid gas-permeable (RGP), daily-wear soft, extended-wear, extended-wear disposable, and planned replacement are the various types of contact lens options available today. Our Carthage optometrist will discuss the various options with you to determine which type will best fit your needs and lifestyle. Schedule your examination today by calling (601) 267-9351. There are many advantages to consider when determining if contact lenses are right for you and our knowledgeable staff is here to answer any questions.
---
Photochromic Demonstrations
View an instant demonstration of Transitions photochromic technology. See how lenses darken and fade back to clear to provide continual visual comfort and protection. Demonstrations brought to you by Transitions.

Interactive Demonstration of Transitions lenses

Interactive Demonstration of Transitions lenses in different environments

---
Lasik
Laser assisted in situ keratomileusis, commonly referred to as LASIK, is a corrective alternative to glasses or contact lenses. Like glasses or contact lenses, LASIK is a method for treating refractive conditions including nearsightedness (myopia), farsightedness (hyperopia), and astigmatism. At Carthage Eye Clinic, Dr. Marler provides pre- and post-operative exams for LASIK and other eye procedures. Call (601) 267-9351 today to schedule an examination to see whether you are a candidate for LASIK.
---
Facilities and Equipment
We have a beautiful wheelchair accessible facility with state of the art equipment. We also have a trendy and modern Optical with over 700 frames to choose from and an Optical Lab on site.
We have a large selection of name brand sunglasses including Costa, RayBan, and WileyX.
---
VISUAL FIELD
Made by Hagg Streit, the world leader in visual field testing and analysis, our new visual field machine is used for visual field analysis in glaucoma, stroke cases, trauma, and many other situations. A person's visual field helps show the doctor the quality of the peripheral (side) vision and helps determine where a neurological defect may be in the optic nerve pathway from the brain to the eye.
---
OCT
Optical coherence tomography, or OCT, is an incredible instrument that exponentially improves out ability to understand the structures in the back of the eye. In lay terms, think of this as an MRI for the eye. With this scanning laser, we can see all 10 layers of the retina and the optic nerve head. It is a must for glaucoma and macular degeneration management which we treat daily. Any retinal pathology can be better understood using the OCT.
---
OPTOS OPTOMAP
In less than half a second, the Optomap's ultra-wide field scanning laser camera delivers a detailed 200-degree image of the retina. Since your eyes are a window to your overall health, the Optomap helps us protect your sight and identify general health issues. This means that in addition to eye conditions, early signs of other diseases like stroke, heart disease, hypertension, lupus, multiple sclerosis and diabetes can also be seen in the retina long before you would otherwise notice which is essential to reduce the risk to your sight and health. Without dilation, the Optos Optomap captures more than 80% of your retina in a single image while traditional imaging methods typically only show 15% of the retina. We choose to include this imaging as part of your comprehensive eye exam while other offices charge an additional fee for such advanced technology.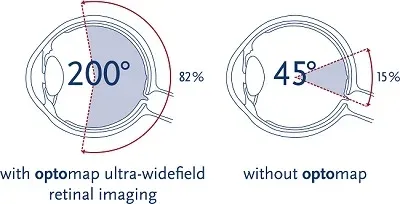 ---
AdaptDx
This instrument helps to diagnose Macular Degeneration at least 3 years earlier than before. Dark adaptation is our eyes' ability to adjust from bright to dark or in dimly lit situations. The AdaptDx is a new piece of technology that measures this. As we age, we all have some decrease in out ability to see after being exposed to lights. However, the disease Macular Degeneration can cause early loss and rapid worsening of our ability to rebound from this. Research shows dark adaptation is affected even in the earliest stages of Macular Degeneration and impairment increases as the disease progresses. Identifying patients at the earliest stages of the disease allows for the intervention when most effective. Dr Marler recommends anyone over the age of 50 to have this test done.
---
OCULUS
The OCULUS Keratograph is an advanced corneal topographer with a built in real keratometer and a color camera. This instrument can map out the shape of the cornea (the front lens of your eye) that can be affected by keratoconus, injuries, ageing changes, and dry eye. This instrument is valuable to help analyze and treat dry eye disease. Unique features include examining the meibomian glands (the oil producing glands in your eyelids essential for a good tear surface). The keratograph can also measure the lipid layer quality, tear film break-up time, overall tear quality, and the tear aqueous thickness.